"Young people don't join conservation organizations."
"Gun owners only care about gun rights."
"America is divided between Republicans and Democrats, and the rift is getting deeper."
I've heard those myths for years. Last weekend, I saw them get blown out of the water. Those so-called truisms fell to what Resource Media calls "long game" strategy.
Fact is, young people are less likely to join– be it a church, a club or a conservation group. Gun owners are often passionate about the Second Amendment. Americans are increasingly ideological.
But with patience and dedication, gulfs can be bridged. I was reminded that in April 2016, when I attended the annual rendezvous of Backcountry Hunters & Anglers in Missoula, Mont.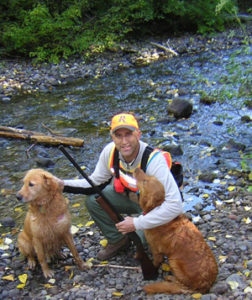 In 2004, an Oregon schoolteacher named Mike Beagle (pictured at right) had an inspiration. Beagle, who is a registered Republican and Army veteran, invited some friends for a campfire in the Cascade Range. They agreed on the vision of creating a group of sportsmen who cared about public lands, clean water and wilderness. They knew other hunters and anglers shared their values but didn't have a group to rally behind.
Fast forward to 2016. In Missoula, some 5,000 people took part in BHA's rendezvous (pictured above). Some 3,500 took part in the BHA Backcountry Brewfest. Some 1,000 took part in seminars and lectures. Nearly 600 enjoyed the banquet and fundraising auction (more people would have come, but fire codes capped attendance).
Today, BHA has a staff of 12, thousands of members from all 50 states and in Canada, chapters in 24 states and provinces, and a diverse stream of income that includes membership, major donors, foundations and hook-and-bullet industry sponsorship.  What's more, while many conservation groups are facing rapidly aging membership, the BHA crowd is notably young and vigorous.
Clearly, BHA has struck a chord. It's increasingly recognized and respected by decision-makers both in the field and in Washington, D.C.
Looking at the throngs in Missoula, Mike Beagle shook his head. "BHA has grown many levels beyond what we ever imagined."
I have been involved with BHA since a few weeks after that initial campfire. I would credit our success to the following factors:
A fundamentally good idea. It's hard to keep a good idea down. Beagle understood that conservation-minded sportsmen like him loved public land and wanted a voice. He was right.
Passionate volunteer leaders who are willing to do the grunt work that it take to build an organization. Some one had to do the dirty work: Filing IRS documents. Attending after-hours conference calls. Sniffing out sources of funding.
Donors and funders willing to take a chance on the long game. That is, people who did not expect immediate returns or who tied their investments to specific short-term goals or campaigns. These funders are hunters and anglers themselves who "got it" and stuck with BHA through years of growing pains.
Of course, new nonprofit organizations are like other start-ups. Many fold for each one that succeeds. No group's future is entirely secure. However, for long-term results, there's no replacement for conservation with a vision.
[Disclosure: Resource Media Senior Program Director Ben Long has been a volunteer board member of Backcountry Hunters & Anglers for 12 years and is currently vice-chairman.]