Today marks the 20th anniversary of the signing of President Clinton's executive order on environmental justice, officially known as the Federal Actions to Address Environmental Justice in Minority Populations and Low-Income Populations a result of Environmental equity grassroots movements of the 1980s. Milestones like this are to be celebrated cautiously, for even in 2014 the issue is a salient one.
Out west, California Environmental Justice Alliance (CEJA) – a coalition pushing for state policies that protect public health and the environment – is commemorating the occasion with the release of their new Environmental Justice legislative scorecard. This effort focused on 11 bills from the 2013 legislative agenda, chosen for their significance to the community organizations CEJA collaborated with.
A long-standing tradition in legislative arenas, environmental scorecards serve as a helpful tool for citizens to study decision maker's performance in a familiar format. Until now, no such rating system existed to specifically address the concerns of the Environmental Justice community.
As a result of the new focus, not one of the legislators that has typically topped environmental scorecards managed to score an "A" for Environmental Justice, but there were many Cs and even Fs: "Our communities are struggling with clogged lungs, asthma attacks, and diesel trucks driving by their homes and schools, so our scorecard tries to look at these issues," explained Scorecard author Sylvia Betancourt, Policy Director at the Center for Community Action and Environmental Justice in Riverside. "That is different from issues like conservation and wildlife protection that are typically on environmental agendas."
"The 'middle of the pack' grades reflect the new crop of elected officials, many of whom represent communities of color that are highly impacted by pollution issues, but might not consider the environment their area of expertise," explains Sofia Parino, Scorecard author and Senior Attorney at the Center on Race, Poverty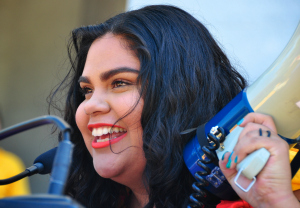 and the Environment.
The scorecard comes at a particularly important time, just as Latinos are poised to become the largest ethnic group in California for the first time since the State joined the Union in 1850. As Strela Cervas, Coordinator of CEJA and Scorecard author says, "It is time environmental policy tackles the issues our communities struggle with on a daily basis, from asthma epidemics to local polluters that violate environmental laws over and over. This shift is already happening because of the growing power of communities of color, and the Environmental Justice Scorecard will be an important tool to help us build even more awareness about our issues in statewide policy."
For environmental groups working to make their agendas more inclusive , CEJA's Co-coordinator, Amy Vanderwarker, offers this advice:
Reach out early, before all decisions have been made. CEJA, and many of our allies, are willing to engage in conversations about potentially thorny policy issues. But outreach has to be done at the start of the process, not the end.
Be inclusive. Think about what groups in an area that will be impacted would want to weigh in on a policy.
Engage in a meaningful way. Don't just reach out for support on an issue, but think about ways to actually partner with community-based organizations. This can be done in small and large ways, but just adding communities of color to the support list won't cut it.
Be transparent. Be honest about your goals and what your bottom lines are, even if they are different."