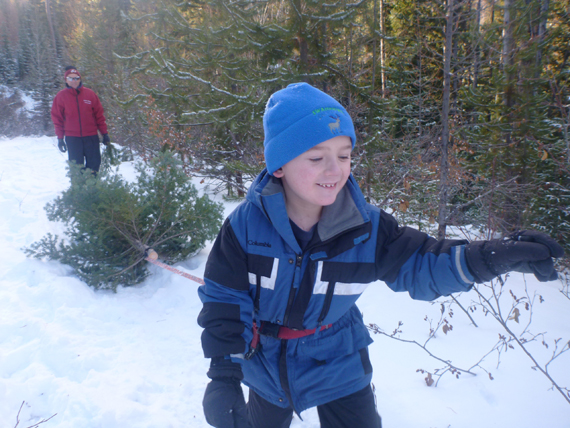 Aidan Long hauls a beauty off the Flathead National Forest as father Ben looks on.
'Tis the season, and Americans nationwide are out walking in their very own winter wonderland: our public lands. And they are skiing.  And snowmobiling.  And snowboarding, sledding, ice-skating, snowshoeing, hunting, ice fishing, and finding that perfect tree.
Oh Christmas Tree!
Every December, thousands of American families get permits and head out for their own Christmas tree from our National Forests, carrying on timeless traditions and creating lifelong memories along the way.  This year's Capitol Christmas tree in Washington, DC, is an 88-foot tall Engelmann spruce from the Colville National Forest in Washington State. Last year's national tree came from the White River National Forest in Colorado.  Whether decorating your living room or the National Mall, Christmas trees are a tradition that celebrates the values and heritage of our country.
But thousands of Christmas tree cutters are mere flurries compared to the millions of Americans who strap on the warm duds, pull out their toys and go play in the snow and ice, all courtesy of our federal public lands managed by the Forest Service, Bureau of Land Management (BLM) and the National Park Service.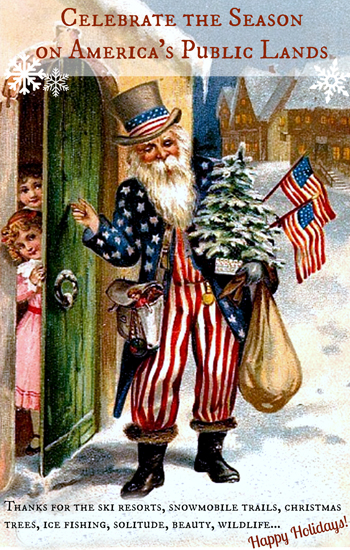 Shred it!
Nearly 60 percent of all downhill skiing and snowboarding runs in the United States are at 122 resorts on US National Forests. That's a big playground for what Snowsports Industries America estimates to be over 15 million skiers and riders in the US.  Plus there are roughly half a million skiers and riders who skip the chairlifts altogether and head uphill under their own power, and another three million cross country skiers, all heading out to play this winter.
Sled it!
There are also about 1.4 million registered snowmobiles in the US, according to the International Snowmobile Manufacturers Association.  Snowmobile riders enjoy over 225,000 miles of groomed and marked trails across North America, mostly developed by volunteer clubs working with government and private landowners.  Tens of thousands of those miles are in 40 National Parks, on National Forests and on recreation sites managed by the Bureau of Land Management.  BLM reports that in 2012 alone they hosted 224,000 visits by people aboard snowmobiles and snow machines.
Bank it!
From the casual to the professional, from day trips to hut trips, and from highly specialized and technical activities to a simple walk in the woods, outdoor winter recreation comes in all shapes and sizes. Winter recreation on our public lands is a powerhouse in an outdoor economy that generates $646 billion in annual consumer spending and supports 6.1 million jobs in the US, according to the Outdoor Industry Association.
What a privilege to live in a country that had the foresight to protect so much of the great outdoors and make it accessible to everyone. It's as if Father Christmas, Mother Nature and Uncle Sam are throwing a party that lasts all winter. There are mugs of fun, goblets of tradition, and shots of joy with memory chasers. Drinks are on the house, because these public lands belong to all of us.
Happy holidays! Have fun out there.