Like the scouring of a fast-moving flood, COVID-19 has exposed and deepened pernicious, racially-rooted gaps in health, wealth and power.
Those most vulnerable to the pandemic — essential workers, immigrant families and Black and brown communities — are typically the least served by public health information campaigns. From how to stay safe as essential workers, to how to fight eviction due to COVID 19 layoffs, marginalized communities face countless barriers in trying to access life-saving information, including a deeply rooted mistrust of many information sources due to a history of mistreatment.
For public health officials seeking to effectively deliver life-saving information to marginalized communities, a new playbook was needed.
Over the last two months, Resource Media has worked with partners in Philadelphia and the King County-Seattle region to address unmet needs for public health guidance for communities of color.
In Washington, we are working with the Department of Public Health – Seattle & King County, one of the largest counties in the nation serving diverse constituents who come from hundreds of cultural backgrounds and experiences. The Seattle multicultural advertising campaign, still early in its development, is meant to reduce risks of infection and death, address stigmas around testing and mental health, and provide technical assistance to community groups and individuals who advocate for communities hardest hit by COVID-19.
In Philadelphia, we are working with Resolve Philly, a nonprofit organization and solutions journalism hub for 25 Philadelphia-area newsrooms, to design and deliver culturally-affirming public health information to the residents most vulnerable to the virus.
Following is an in-depth look at our work in Philadelphia; forthcoming we'll provide a play-by-play of our project in King County.
Resolve Philly's approach is anchored by a "community info-line," an evolving SMS/text message-based news and information service shaped by and for underserved residents. Philadelphians can text in their most pressing questions related to COVID-19 impacts — from where to find free food to how to fight eviction, and the Resolve team gathers answers from the city's most trusted newsrooms, independent journalists, community organizations, and government agencies.
Resource Media's job is threefold: in short order, we helped Resolve Philly to name and frame this first-of-its kind information access project. Our ongoing work involves developing public health creative that speak to the values and needs of communities of color; and getting the word out through paid and digital media strategies.
A brand strategy and stage for roll out
Equally Informed Philly debuted in May at the Collaborative Journalism Summit. The brand emerged out of collaboration with Resolve Philly's leadership, created with a visual identity, positioning language, and a multilingual landing page. The name Equally Informed reflects both equitable information access and solutions shaped by diversity community voices.
Resonant, affirming content
For an essential worker or someone living with three generations in a single household, typical social distancing and stay-at-home guidance can cause confusion at best and feelings of shame at worst. Working with Resolve Philly's community engagement leads and Seattle-based illustrator Max McLoughlin, we developed a suite of ads, digital and print assets in five languages that frame masking and social distancing in a way that affirms the real, lived experiences of Philadelphia residents and the need to earn a living and stay connected.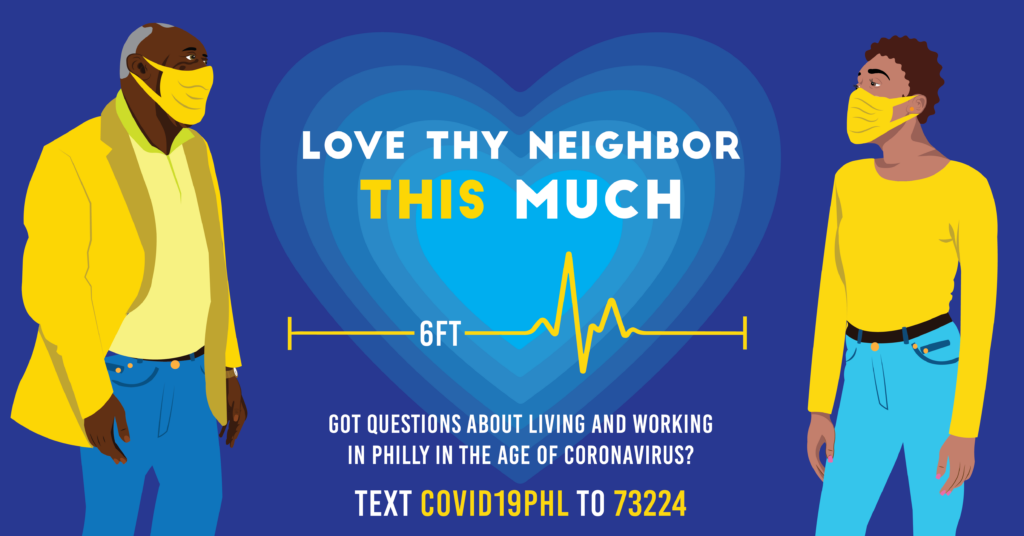 The visuals depict a variety of masked community members, diverse in race, age, and body type. The visuals have been widely shared on social media (2 million impressions in the first three days) and have been running as PSA placements on the digital properties of Philly's mainstream and multicultural media outlets. As public health experts have begun to emphasize masks over social distancing, we're developing new visuals to support outreach.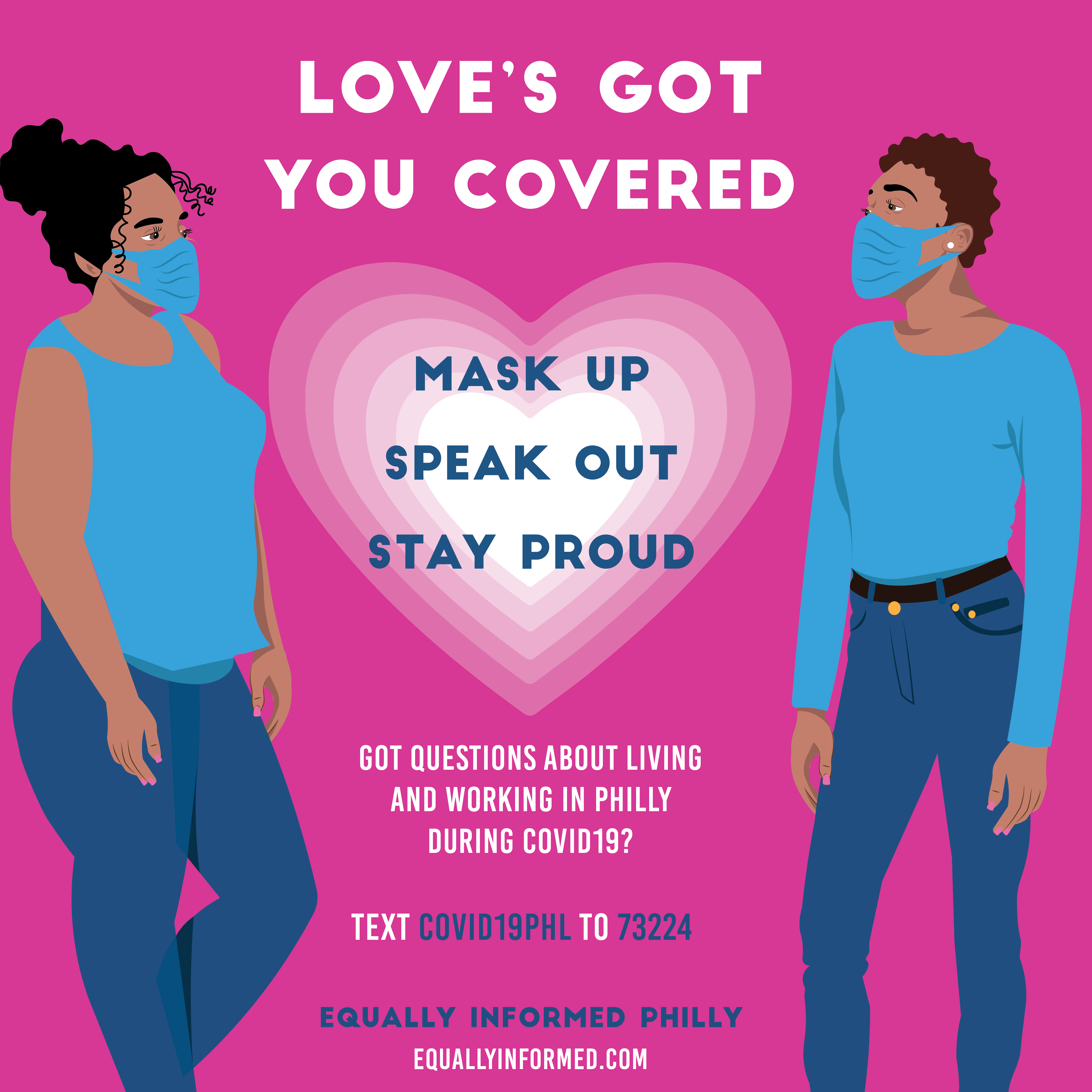 Partner with–and financially support–distribution channels
To get the word out, we've been working with Resolve Philly to plan and implement a "newsroom stimulus," a six month ad and sponsored content buy that will serve the dual purpose of injecting much needed cash into struggling newsrooms — multicultural newsrooms, especially — and providing a paid, targeted platform to amplify our public health creative.
Over the next few weeks, we'll also be working closely with Resolve Philly's community engagement team to drive content on social channels and leverage Resolve's network of local influencers to amplify public health messaging and drive the use of the community infoline. We'll also be using social to amplify community narratives around race, ability and access.
Multicultural communications: meeting people where they are
A key maxim of strategic communications is to meet people where they are. The COVID-19 crisis continues to lay bare deeply-rooted racial inequities that put marginalized communities at much greater risk from the virus, whether from direct health impacts or economic ones. Meeting communities where they are requires acknowledging these disparities. Our work in Seattle and Philadelphia is devoted to making sure Black and brown residents are safe, healthy and celebrated so that they can best weather the challenges ahead.
— Adam Hymans and Amy Frykman