While political battles rage on over state climate laws designed to clean up California's air and energy, communities up and down the coast are quietly preparing for one climate impact that has largely escaped partisan politics: sea level rise.
Last month, I attended a University of California Irvine event on Fostering Climate Resilient Coastal Communities. I shared our best practices for communicating about sea level rise in a way that builds support for solutions. And I was excited to hear about all the innovative ways California cities and state agencies are tackling this problem.
We've already written about Here. Now. Us., a sea level rise visualization project created by Climate Access, Marin County, and tech company Owlized. But that's not the only clever way Marin is helping residents understand the impacts rising seas will have on their homes, roads, and businesses.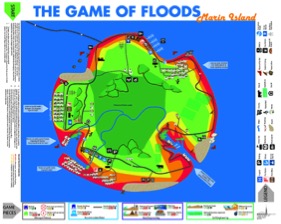 The County has also created a board game, Game of Floods, which asks small groups to plan for rising seas in the year 2050. Each player is given a reference guide that explains the costs, pros and cons of choices like dune restoration and tidal gates.
The idea of bringing residents together around a table to talk solutions is at the core of UC Irvine's FloodRISE program as well. Engineers have crawled through culverts to predict, parcel by parcel, what kind of flooding we can expect in the coming years. They are meeting with people in Tijuana's Los Laureles Canyon and Newport Beach to talk through their maps, gather information about things like residents' experience with heavy rains, and discuss plans for the future.
There was a lot of talk at the UCI event about "green infrastructure," a term planners use to describe tools like horizontal levees, sand dunes, wetlands, and oyster reefs that provide natural protection against high tides and flooding. Environmental organizations like them because they provide homes for plants and animals, and officials like them because they are typically less expensive to build and maintain. The Nature Conservancy has a great guide contrasting "green versus gray" adaptation tools.
Charles Lester, Executive Director from the California Coastal Commission, made a strong case for green infrastructure through photos. He showed how unsightly seawalls lead to beach loss and block public access.

Our advice is to describe these downsides of coastal armoring while emphasizing the benefits of natural approaches like wetlands and dunes. The San Francisco Bay Area is working on the West Coast's largest wetlands restoration project right now, and hiking and biking trails are a key part of the plan.
We will share our top five tips for communicating about coastal resilience in the second installment of this two-part blog series. Stay tuned!