Most were caught by surprise when the Supreme Court stayed the Clean Power Plan last week. But reaction came fast. There were responses from governors, state agencies, power companies, business groups, advocacy organizations and more. Here are a few of the messages that came through loud and clear in support of continuing to plan for the CPP, and what they combine to say to those that are putting on the brakes:
It's a different energy era
EPA's Administrator has been saying it since she first proposed the Clean Power Plan, and Gina McCarthy said it again: "The CPP is underpinning a transition that is already happening and will continue to happen."
Others spelled it out further: "Looking at the future of energy in this country, we know low-price natural gas is going to be around for a long time. We know that the price of renewable energy is coming down in many states," said John Quigley, secretary of the Pennsylvania Department of Environmental Protection. "It's clear that renewables are the future."
Advocates reinforced it. "We are witnessing the inevitable rise of better technology designed to meet the energy needs of the 21st century," said Malcolm Woolf with the national business association Advanced Energy Economy. "The electricity sector has embarked on an unstoppable shift from its high-pollution, dirty-fueled past to a safer, cleaner-powered future," said David Doniger with Natural Resources Defense Council.
And utilities weren't shy. "We've communicated pretty clear in recent years that we believe the transition away from coal is going to happen," said Rocky Mountain Power spokesman Dave Eskelsen.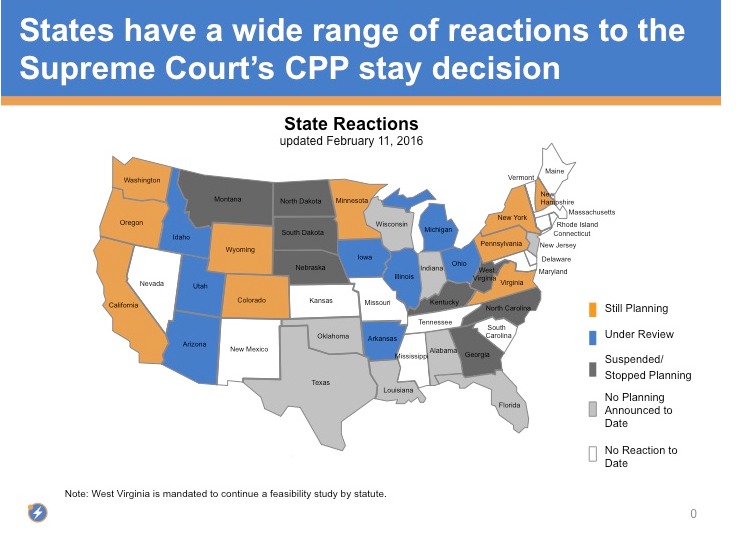 (Map: Advanced Energy Economy)
Meaning we don't sit back and wait
Building on the footing of a transforming energy sector and ever-increasing imperative to deal with carbon emissions, some went on to indicate the gain in moving forward or risk in staying put.
"We shouldn't need a federal edict to understand how vital it is that we keep doing everything in our collective powers to reduce harmful greenhouse gas emissions, improve energy efficiency, and advance Minnesota's clean energy economy," said Minnesota Governor Mark Dayton. (In other words, the landscape today is obvious and so are the smart moves in it.)
"It is prudent for Colorado to move forward during the litigation to ensure that the state is not left at a disadvantage…," wrote Colorado's Department of Public Health and Environment. "Colorado's utilities, local governments, nongovernmental organizations, and other stakeholders have provided valuable input on the development of the state plan." (In other words, we're doing the wise thing here, let's not derail it.)
Virginia governor Terry McAuliffe also chose to emphasize the value of proactive collaboration to seize the clean energy economy moment: "Over the last several months my administration has been working with a diverse group of Virginia stakeholders that includes members of the environmental, business, and energy communities to develop a strong, viable path forward to comply with the Clean Power Plan," McAuliffe said. "…We will stay on course and continue to develop the elements for a Virginia plan to reduce carbon emissions and stimulate our clean energy economy."
And for a sum-up, Pennsylvania's Dept. of Environmental Protection Secretary once more: "What the Clean Power Plan is calling for is really good business." (In other words, sitting this out could mean losing out.)
A message to laggards
So what does this all add up to? It amounts to a pretty sharp message for states that have signaled they will cancel their CPP meetings and stop forward movement: if they put this on the back-burner, they risk losing out for their residents and businesses in the transition to clean energy – while other states actively position for maximum success.