The International Union for the Conservation of Nature (IUCN) recently announced that about three percent of the world's oceans—an area slightly larger than the continent of Europe—now lies within marine protected areas.  This is up from 1.2% in 2010, but still well below the target of 10% by 2020.
Despite heaps of science underscoring the urgency of ocean protection, progress is slow. Having worked on marine protected area communications for a decade, we appreciate the challenges of building political and public support when the threats and resources are hidden beneath the waves.  Since most people will never dive in a coral reef or kayak through mangroves, ocean advocates must paint a picture with their words (and, of course, make good use of the stunning photographs and video at their disposal).
| | |
| --- | --- |
| | |
Liz Banse and I recently traveled to Corsica, France to help site managers for the 46 UNESCO World Heritage Marine sites hone their communications skills.  We were fortunate enough to join the site managers for a tour of the spectacular Scandola marine reserve.  During the boat tour, we heard from a geologist about the area's unique rock formations, and from a biologist about the giant grouper that congregate in their shelter. We learned that the reserve requires boats to use electric motors to minimize disturbances to marine life, and heard about the area's fishing history.
Over dinner that night, Fernando Quirós of Costa Rica's Isla de Cocos National Park said to me, "we heard so many facts today, but what's important is the feeling visitors have when they go there." And that's precisely what we all discussed the following day in our marketing and communications workshop—feelings like awe, pride of place, community, and responsibility, that we can tap into to engage politicians, neighbors, and corporate sponsors.
UNESCO World Heritage Marine site managers are experts, but they don't have to explain everything about wildlife, water quality and ecosystem services in order to convince stakeholders to care. Instead, they need to connect the value of a World Heritage site to their audiences' core concerns, from jobs to food security.
Half the World Heritage Marine sites are located in developing countries and half in developed countries. Each one has unique challenges and opportunities. Because needs are so varied, we left the site managers with a four-part messaging template they can adapt for difference circumstances. It starts with identifying the goal and audience, and then outlines a value, problem, solution and call to action that is tailored to fit.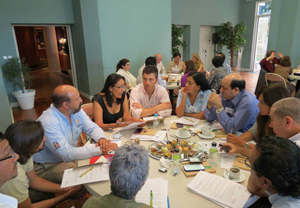 During the small group exercise, one site manager developed a message about invasive species, designed to educate the local community about the impacts of abandoning exotic pets in the protected area. Another developed a message for tour guides, asking their help to make the invisible connections between land and sea visible by connecting ocean protection to visitors' dinner plates. Some of the messages talked about iconic animals like whales and Bengal tigers, and some about the need for balance in the web of life.
Afterwards, Eliécer Cruz from the Galapagos said he appreciated the opportunity to stop thinking as a site manager and put himself in the shoes of his audience. While World Heritage Sites are inscribed for globally significant qualities like biodiversity and unique geological processes, their value to local residents or international donors is often much more personal.
We were honored to work with this august group to develop messages that will help them connect global significance to local support, and look forward to helping all of our partners continue to make the case for investment in marine conservation.