Understanding Energy: Are electric company fixed fees fair?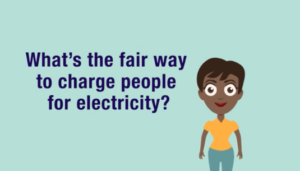 A new video on electricity company fixed fees is available to embed on your website and share via email and other digital platforms. The purpose of this video is to help anyone involved in considering a utility proposal for higher mandatory fixed charges understand what these types of charges are, how they disadvantage households that use less energy from their power company, and how to correctly determine what a fixed charge should be. The video is appropriate for any audience, but also includes information geared in particular for grass-tops audiences, as it explains how to calculate the fixed charge rather than getting into a negotiation frame that enables utilities to improperly push fixed fees higher.
YouTube link:
How to share? Where and with whom?
Embed the video on your website.
Email the video link to key groups and stakeholders in your area who aren't very familiar with this topic but need to be (such as state consumer advocates, PUC commissioners and staff, community and faith organizations, low-income advocates, clean energy or energy efficiency groups/companies, etc.).
Share the video through Facebook pages and Twitter accounts, tagging key individuals or groups that you want to see it, and using relevant hashtags.
Embed on your website 
On the YouTube page for the video, click "Share" and then the "Embed" tab, and copy the embed code from there.
Or simply copy and paste the following code directly onto your website or blog post: <iframe width="560″ height="315″ src="https://www.youtube.com/embed/9vEKi1HJz8g" frameborder="0″ allow="autoplay; encrypted-media" allowfullscreen></iframe>
Sample language for your website, edit as appropriate:
What are electric utility fixed charges? Why are higher mandatory fixed fees harmful to those who don't use as much electricity, and how can donuts help explain it? What's the right way to determine a power company fixed charge? Watch this quick explainer video!
Sample Tweets
Edit the sample tweets below to include hashtags that are right for your organization and add the tags for entities like local PUCs or other groups that you want to see the post.
Sample Facebook post
Edit the sample post below as appropriate for your organization.
#UnderstandingEnergy can be dull, but not with donuts! 🍩 Check out this short video that features a donut shop to help explain what electric utility fixed charges are, how they can be harmful, and what the right way is to determine a utility fixed fee. http://bit.ly/UnderstandingEnergyFixedCharges
Additional hashtags to consider:
#RenewableEnergy

#EnergyEfficiency

#Solar

#Energy
#Electricity
#EnergyBill
#Utilities
#LowIncome
#AffordableEnergy
Want to download the video? Click here.