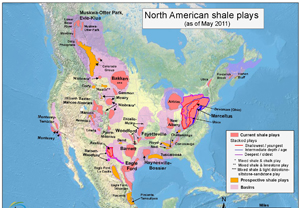 November 4, 2013
Drilling conflicts are almost always described in the context of their impacts on air, water and health. But increasingly, as the drilling boom sweeps the country, another part of the drilling story is starting to bubble up in drilling hotspots like Colorado, Pennsylvania, New York, Wyoming and Texas (check out this map to see all the shale gas in play in North America).
Increasingly, oil and gas development is butting up against, and often trampling, the bedrock American principles of property rights and the value of one's home.
"You could end up where someone puts a drilling platform on that property. We'd have to tell their neighbors, 'We're sorry, your property value just went down.'"
–Jim Blaine, President & CEO of State Employees' Credit Union in North Carolina, which decided this year to no longer approve mortgages on properties where the mineral rights are severed from the property.
Industry estimates peg the number new wells that will be drilled across the U.S. over the next decade at more than 200,000. In this rush to tap once unreachable deposits, oil and gas development is pushing the boundaries of drilling. Innovations like fracking and horizontal drilling mean nothing is out of reach. Once the province of wide open spaces, drilling rigs now regularly inch up and even into communities that never anticipated having to address problems like round-the-clock noise, storage tanks, drums of toxic chemicals, noxious fumes, and pipelines near homes, schools, playgrounds and parks.
This clash of large-scale industrial activity and communities has surfaced a deep rift in the American landscape, where the legal doctrine of split estates allows one party to own mineral rights and someone else to hold the rights to soil and surface. With the oil and gas industry showing little self-restraint in where drilling happens, and almost no regulatory or legal precedents to protect them from having industrial activity in their back yards, communities are fighting back. Increased truck traffic, chemicals, lights, noise, heavy equipment, noxious air emissions and water contamination are liabilities for landowners, to the point that communities in Colorado, New York and other states have taken matters into their own hands. Feeling unprotected by weak state and oil and gas regulations ­– most of which were developed never contemplating drilling in urban and suburban landscapes – towns, cities and counties are instituting moratoria and bans on drilling within their borders. There are fracking-related ballot measures in at least four Colorado communities this year.
But it's not just NIMBYism driving this reactive opposition. The financial risks posed by drilling are real and substantial enough, for example, that banks and insurers are adopting guidelines that forbid mortgage loans or insurance coverage on properties affected by drilling. It's a battle between oil and gas and the nest egg of countless Americans.
The following examples begin to piece together the ways in which the threats posed by drilling and the deep pockets of the oil and gas industry quite literally hit home. Taken together, they are a call for decision-makers to start quantifying data and asking tough questions about drilling vs. the American Dream.
Property Values
Property Rights
Mortgages and Fracking
Recognizing the numerous ways that drilling and fracking could damage value, the mortgage industry is starting to refuse to take on the financial liabilities and is tightening policies that prohibit lending on properties with wells on them or that are subject to leasing.
Insurance Coverage
Homeowners who think damage to property incurred by drilling accidents is covered by insurance need to think again. Such damages are typically not covered.
Last July, Nationwide Insurance spelled out specifically that it would not provide coverage for damage related to fracking. According to an internal memo outlining the company's policy, "After months of research and discussion, we have determined that the exposures presented by hydraulic fracturing are too great to ignore. Risks involved with hydraulic fracturing are now prohibited for General Liability, Commercial Auto, Motor Truck Cargo, Auto Physical Damage and Public Auto (insurance) coverage."
Often, a driller or well operator's insurance won't cover damages, according to the NYSBA summary. Homeowners may have to sue for damages and, even if they win, may not get paid for all damages since drillers admit in their regulatory filings that they may not carry enough insurance.
Other online resources: