Anti-immigrant Landscape
Trump's brutal migrant family separation crisis hit in the summer of 2018. Under his "zero tolerance policy," US border patrol agents separated children from their parents and guardians who were with them when crossing the US-Mexico border. The adults were sent to detention centers and federal jails to await prosecution, and their children and infants were placed in alternate detention centers across the country for up to 240 days. What emerged from investigative reports were that roughly 15,000 children were living in cages, subject to unsafe and unsanitary conditions, and being withheld information about their parents' whereabouts. Some even became sick and died in custody, much to our collective horror. All over the country, including here at home in Seattle, communities and organizers have risen up to resist.
Hitting Home
In Washington, the migrant family separation crisis gained local attention when 200 asylum seekers were transferred to the federal prison in SeaTac, as the federal facilities on the border had run out of space. NWIRP (Northwest Immigrant Rights Project), an immigrant legal services and advocacy non-profit, took the lead by providing pro bono legal representation for the asylum seekers, and arranging phone calls with their children.
Resource Media considered this a human rights and environmental justice issue- our organization firmly believes in and works toward a world where all people, regardless of nationality or citizenship status, have the right to exist in safe and healthy conditions. We reached out to NWIRP to see how we could help build a bail fund similar to the spectacular effort RAICES had launched at the border. The creation of a bail bond fund ensures that there is an self-replenishing mechanism for bail funds as each bail bond will be returned in full once each case is over, freeing it up to be applied to the next person.

Sustaining Engagement
Leveraging a generous $300,000 seed fund from Together Rising and NWIRP's robust network of supporters and name recognition, Resource Media created a multi-stage social media campaign to drive awareness and fund donations. Our team included Sian Wu, Marcela Gara, Teresa Guillien and friend-of-the-family Max McLoughlin, who created the compelling visuals that helped the bail fund shine. Even though NWIRP was in full rapid response mode, they took the time to work with us to devise a strategy to include the following steps:
Coming up with a name, campaign concept, hashtag, messaging and visual identity
Creating an online fundraising platform
A fundraising toolkit and materials guide, which was posted on the NWIRP site so that community members could host their own fundraisers
Earned media outreach
Creation of custom-branded graphic social media graphics, print files and web banner ads that were a powerful visual indicator of the families that had been forcibly dissolved
Placement of pro-bono ads, utilizing existing relationships with The Seattle Globalist
A Winning Strategy
After four-and-a-half weeks of the campaign, together we raised $516,000 in bond funding. We did this by racking up 86 mentions of #ReunifyWA on Twitter and 103 mentions on Instagram. This amount was used immediately to free 56 people from the federal prison in SeaTac. Join us to protect the dignity and safety of immigrants in our country. Here are some actions you can take:
Speak up and hold our elected leaders accountable. As the White House is entering into negotiations around immigration policy, express support for immigrant families and policies that help families, rather than continue to perpetuate xenophobia and dehumanization. Look up and contact your local representative. Call scripts.
Donate to our Free Immigrant Families fund and other organizations that are helping current immigrants awaiting trial or seeking reunification with their family members: RAICES Families Together Bond Fund, Pueblo Sin Fronteras, Immigrant Families Together, Young Center For Immigrant Children's Rights, Las Americas Immigrant Advocacy Center, Detailed Migrant Solidarity Committee, ActBlue, Texas Civil Rights Fund.
Support immigrant-owned businesses in your region.
If you or your ancestors are immigrants (meaning, you aren't indigenous to the land you live on or your people were not brought to the country against their will), share your family's immigration story and talk to your family about the issue of immigration today.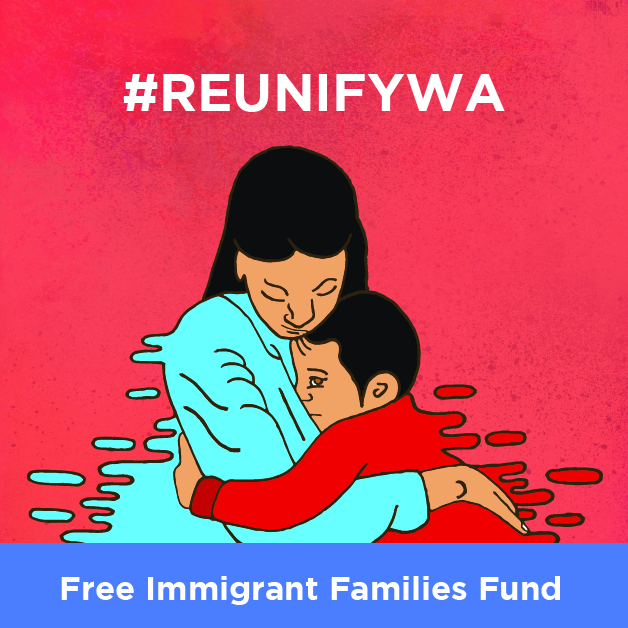 Resource Media dedicates two percent of all our revenue to working pro-bono with groups working in diverse and marginalized communities, assisting with their goals and priorities.
In addition to NWIRP, other organizations we've worked with pro-bono include Central Coast Alliance for a Sustainable Economy (CAUSE), Color of Change, The People's Institute, Presente, Restore Oakland, Downtown Emergency Services Center (DESC), and Rural Empowerment Association for Community Help (REACH).
For more information please email us at info@resource-media.org.
—Frances Lee, with interviews with Resource Media's Belinda Griswold and Maria Kolby-Wolfe at NWIRP.